EasyGrow S600 FlowerSpec.
Code:
11208
Related products
Product detailed description
Les lampes EasyGrow ont été conçues pour les cultivateurs professionnels et amateurs, elles utilisent la technologie la plus moderne et la plus efficace.
LED
SAMSUNG LM301B très efficace jusqu'à 230 lm/W alimenté par la série Meanwell HLG, offre une perte de puissance minimale et une longue durée de vie.
Paramètres techniques:
Remplacez par : 600 W HPS
Puissance lumineuse : 250W
PPFD : 1075,60168 umol/(m2·s)
Rendements : 2-2,5 g/W
Poids : 3,8 kg
Taille de la lumière : 63,3 x 19,5 x 6 cm
Luminosité : max. 228,99 lm/W
Garantie : 5 ans
Durée de vie : 100 000h en fonctionnement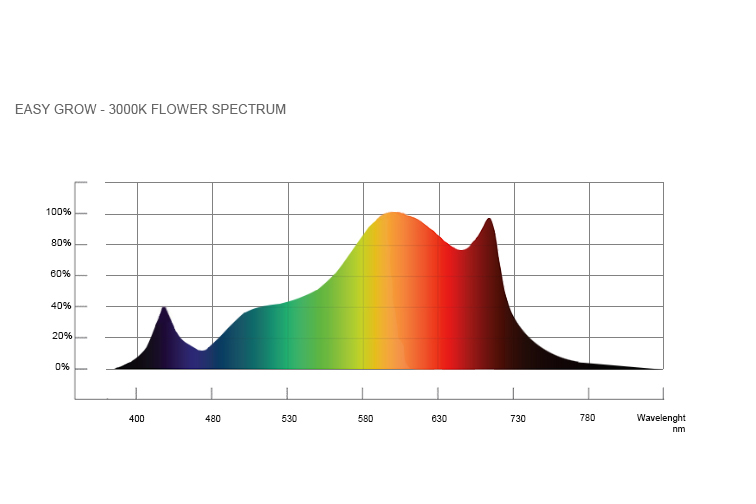 Spectre de fleurs 3000K
Spectre de fleurs Easygrow vise principalement le stade de floraison des plantes et a été conçu pour maximiser le rendement obtenu. Nous vous recommandons d'utiliser les lumières avec ce spectre combiné avec les lumières pour la croissance.
Composants de l'EG-S600 :
Pilote : Meanwell HLG PRO Series

Puces utilisées :
Samsung LM301B

Diodes Epistar FarRed

Puissance réglable : OUI (la puissance ne peut être contrôlée que via le gradateur intégré au pilote dans la plage de 50 à 100 % - ne peut pas être réglée à l'aide de l'application mobile)
Couverture recommandée :
Grandir : 90x90cm (3'x3')

Fleur : 120x120cm (4'x4')
Distance de l'usine :
Semis : 60 cm (23")

Grandir : 40-60 cm (16 "x 23")

Fleur : 30-40 cm (12"x16")
L'emballage contient :
Eclairage complet Prise EasyGrow (3m) EU, UK
Système d'accrochage complet

Manuel et carte de garantie
Les luminaires sont assemblés et conçus dans l'Union européenne. En cas de réclamation, nous récupérerons gratuitement la lampe chez vous et nous vous la renverrons une fois réparée.
Be the first who will post an article to this item!